Superficial reshaping of small blemishes.
Fillervit-F® medical devices, the latest additions to the Fillervit line family, were produced to complement the facial treatment line and thus have the ability to smooth wrinkles, restore volume, and reshape facial contours.
APPLICATION
Periocular, superficial, perioral wrinkles.
HIGH PURITY
Fillervit-F® is composed of pure hyaluronic acid of nonanimal origin derived from bacterial fermentation (Streptococcus zooepidermicus).
FILLERVIT-F 22®
---
Composition: HA 22mg/ml
Volume: 1ml
Needles: 27G 13mm
Validity: 36 Months
BDDE: < 0.5ppm
Injection Depth: Superficial Dermis
---
PROPERTIES
The presence in Fillervit-F® of glycine and proline differentiates it from other types of fillers. These amino acids ,which are the two most represented residues of collagen, allow an optimal viscosity that gives the filler a high capacity for tissue integration and consequent smoothing power, an elasticity that facilitates gel shaping and gives a strong volumizing power.
CROSS-LINK
Fillervit-F® is composed of high-molecular-weight hyaluronic acid cross-linked with bdde, which, however, is found in a very low percentage in the final product.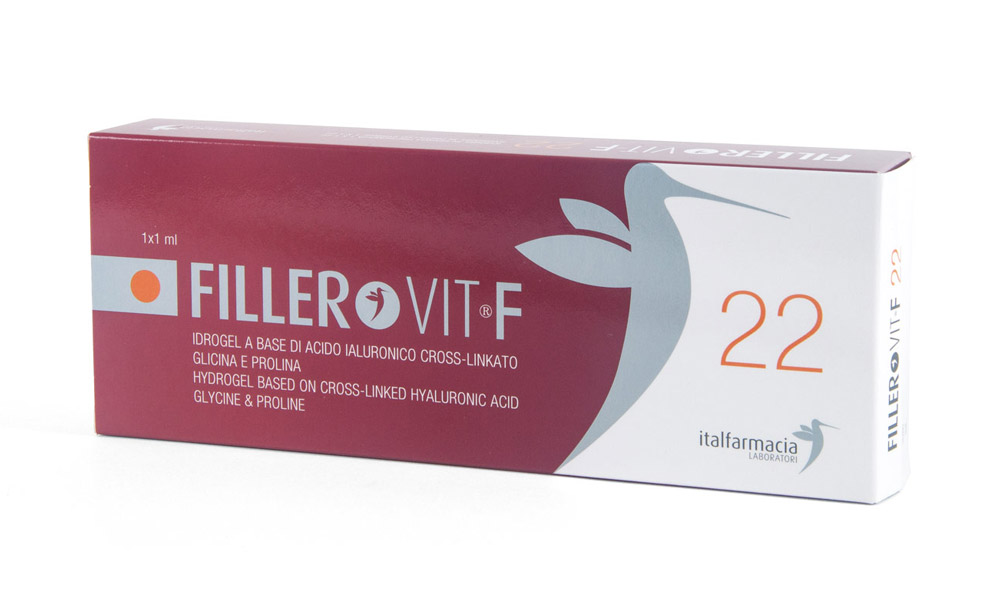 DISCOVER PRODUCTS FROM THE SAME LINE