NUTRACEUTICAL SUPPLEMENTS
Dietary supplement containing vitamins and minerals.
Fullvit is the multivitamin particularly indicated as a complement and supplement to Amino Acid treatments and in all situations where vitamin and mineral supplementation is needed, such as stress, overwork, convalescence, physical and mental fatigue.
ACTION
Fullvit provides all the vitamins and salts essential for coping with stressful situations, physical and mental overwork, convalescence, and restrictive diets.
HIRING
Take 2 capsules daily, accompanied by a glass of water.
INGREDIENTS
Vit.C, Magneso oxide, Niacin, Iron bisglycinate, Vitamin E, 50% powder adsorbed on corn starch, Zinc gluconate, Vitamin B5, Manganese gluconate, Vitamin B6, Vitamin B2, Vitamin B1, Copper gluconate, Beta-carotene powder 96%, Folic acid, Vitamin K 5% powder, Sodium selenite, Vitamin D3 100,000 IU powder. Antiplatelets: vegetable magnesium sterate, amorphous silica, calcium phosphate.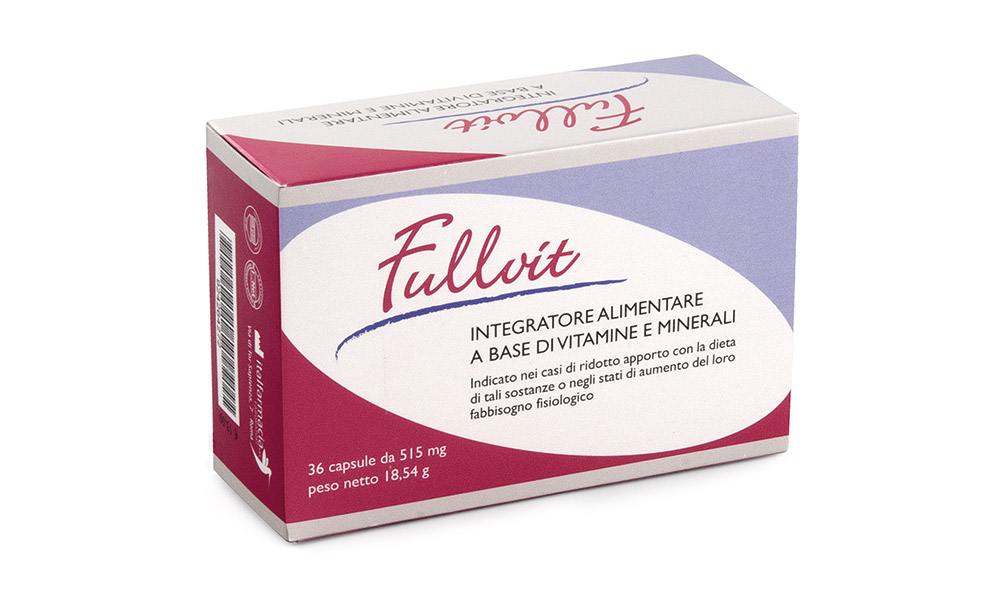 DISCOVER PRODUCTS FROM THE SAME LINE