NUTRACEUTICAL SUPPLEMENTS
Dietary supplement to strengthen the immune system.
Nature at the service of your immune system and well-being. Immunostimulator® is a dietary supplement containing active mushrooms as immunomodulators, aloe, echinacea and vitamin C.
ACTION
Stimulates the immune system; Antiviral, antibacterial, antitumor activity; Lowers cholesterol, triglycerides, blood sugar; Adjuvant in the treatment of diabetes and impaired liver and kidney function; Anti-inflammatory activity against free radicals.
HIRING
Take 4 capsules daily accompanied by water.
INGREDIENTS
Ganoderma lucidum (Curtis) P. Karst. (Rheishi) sporophorum dry extract 10% polysaccharides, Pleurotus ostreatus (Jacq :FR.) P. Kumm sporophorum dry extract 1:4, Lentinula edodes (Berk.) pegler (Shitake) sporophorum dry extract 10% polysaccharides, Grifola frondosa (Dicks.) Gray (Maitake) sporophorum dry extract 20% polysaccharides, Cordyceps Sinensis (syn. Paecilomyces hepiali Chen) sporophorum dry extract > 7 % chordiceptic acid, Agaricus blazei sporophorum dry extract 40 % polysaccharides, Echinacea purpurea moench herb dry extract 4 % polyphenols, Aloe vera L.juice pulve re lyophilized , Vitamin C (ascorbic acid). Anti-caking agents : Magnesium salts of fatty acids, Silicon dioxide. Vegetable food gelatin operculum, titanium dioxide coloring E 171.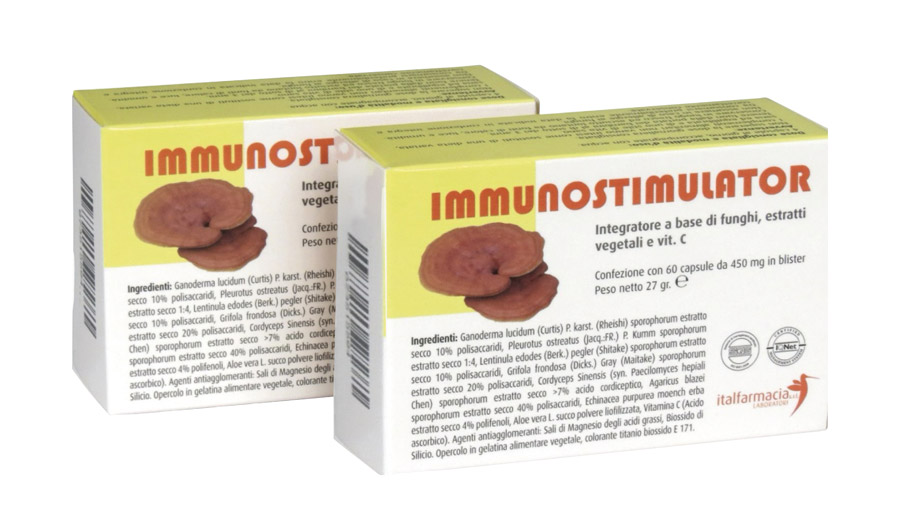 DISCOVER PRODUCTS FROM THE SAME LINE